The 2019 novel Coronavirus (COVID-19) has now spread to nearly every country in the world since it first emerged from Wuhan, China in December 2019, and is now having a massive impact on the daily lives of millions upon millions of people worldwide. It has been suggested that wearing face masks could help contain the virus, and in many countries donning a mask has become part of the daily routine.
On March 4, 2020, the Korean Intellectual Property Office released interesting statistics related to masks. It shows that the number of design applications for masks has increased 11-fold, from 73 cases in 2010 to 815 cases in 2019, with the year-on-year design application growth rate standing at 212.3 percent.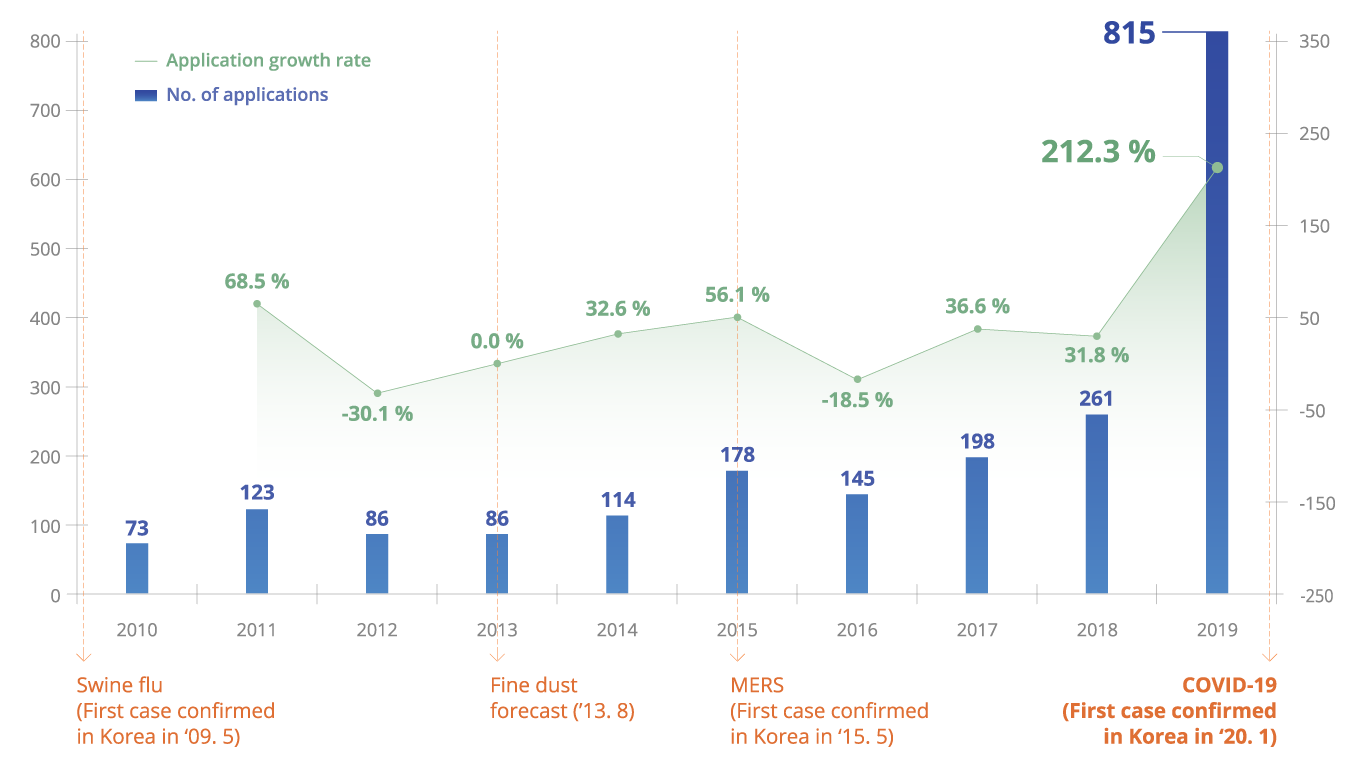 [No. of Design Applications Per Year & Application Growth Rate Based on Previous Year]
Since 2013, the number of design registration applications has been steadily rising in line with the growing awareness of the harm of fine dust particles, as well as the outbreak of respiratory diseases such as MERS in May 2015. As ultrafine dust levels continued to hit record highs of 144μg/m3 in March 2019 and 149μg/m3 in November in 2019, the number of design applications seems to have surged. Masks of various designs have been registered, as shown below:

Registration No.
(Registration Date)
Title
Drawing
30-1023486
(2019.09.09)
Yellow dust mask
30-0975385
(2018.09.28)
Sanitary Mask
30-0959755
(2018.06.04)
Nasal Mask
IR DM/093853
(2017.08.29)
Breathing mask
[Examples of Registered Mask Designs]
Most design applications for masks are subject only to partial examination*, and from December 2019, the examination pendency for partial examinations has been shortened to 10 days (discussed here in further detail). Furthermore, KIPO also announced that it will do its best to quickly examine design applications for masks, and thus applicants are expected to be able to secure design rights for masks relatively quickly.
While it is interesting to look at application trends for masks, on a more serious note we sincerely hope that the pandemic subsides as soon as possible, and we wish all of those reading, as well as their colleagues, friends and families well in these unpredictable times.
* Partial examination: Designs which have a short life-cycle and are sensitive to trends, such as clothing and fashion items, fabrics, etc., are subject only to "partial examination" comprising a formality check and limited industrial applicability/novelty requirements.